ITRON Newsletter No.29 (HTML Edition)
ITRON Technical Committee, TRON Association Katsuta Building 5F, 3-39, Mita 1-chome, Minato-ku, Tokyo 108, JAPAN
TEL: (03) 3454-3191 FAX: (03) 3454-3224
Survey on Applications of ITRON Systems
The ITRON Technical Committee is conducting a survey this year on ITRON system applications, which like last year's survey is aimed mainly at embedded system developers. The questionnaires are being mailed out during the last two months of the year. It will also be possible again this year to fill out and submit the questionnaire via the ITRON Web site. The results will be made public on the Web site.
The results obtained from surveys like this are reflected in our promotional strategies for the ITRON specifications, and provide valuable reference material for setting the future course of the ITRON project. We would like to urge our readers to cooperate by taking the time to fill out the questionnaire.
ITRON Book Published by IEEE Computer Society Press
A new book presenting and elucidating the µITRON specifications is being readied for publication by the IEEE Computer Society Press. Entitled "µITRON3.0: An Open and Portable Real-Time Operating System for Embedded Systems," the book is similar in content to the "µITRON3.0 Standard Handbook, Revised Edition" made available earlier in Japanese. The aim of the English-language publication is to further the spread of the ITRON specifications outside of Japan. To obtain a copy, contact IEEE Computer Society or the TRON Association. We hope this book will be of use to people all over the world.
"Java Technology on ITRON-specification OS" technical committee formed
The ITRON Technical Committee has formed a "Java Technology on ITRON-specification OS" technical committee to work on interface standards for implementing a Java runtime environment on an ITRON-specification real-time kernel.
As interest in Java technology spreads to the field of embedded systems, a number of systems have been developed that implement a Java runtime environment on an ITRON-specification kernel. The committee will consider standards for such aspects as the interfaces for communication between programs running on the Java environment and ITRON-specification kernel tasks, and the mapping of Java threads to ITRON tasks. The results are to be summarized by the end of the current fiscal year (end of March 1998), according to plans. The committee will also determine what functions, if any, should be added to the present ITRON kernel specification to support Java implementation, and will draw up recommendations for the next kernel specification version.
ITRON-related Publications
Listed in the table are the publications prepared and issued by the ITRON Technical Committee as of October 1, 1997. They are available from the publishers indicated.

The revised edition of the µITRON3.0 Standard Handbook includes the latest version of the µITRON3.0 specification (Ver.3.02.02). Changes made between the µITRON3.0 Standard Handbook Ver.3.00.00 and Ver.3.02.00 are listed in the ITRON Standard Guidebook 2. The changes from Ver.3.02.00 to Ver.3.02.02 are limited to organizational changes and additional explanations; they do not affect the technical specifications themselves.

The ITRON-µITRON Standard Handbook is a one-volume compilation of µITRON2.0 and ITRON2 specifications. The ITRON Standard Guidebook 2 deals primarily with µITRON3.0. The earlier ITRON Standard Guidebook '92-'93 remains as a valuable reference for use with the µITRON (Ver.2.0) and ITRON2 specifications, even though the dates in its title are now past.

* Prices do not include consumption tax.
* The documents are available to TRON Association members at a special discount rate.
* English-language specifications can be downloaded free of charge from here.
Report on Embedded Systems Conference and ITRON Supporters' Meeting
The ITRON Technical Committee presented information on the ITRON specifications at a booth in the Embedded Systems Conference (ESC West), held at the San Jose Convention Center in San Jose, California from September 29 through October 2. In addition, on Wednesday, October 1, the committee held an ITRON Supporters' Meeting at a hotel near the convention site. The meeting was the occasion for giving updates on ITRON-related activities and standardization efforts, followed by presentations by companies in the United States that have developed ITRON-specification products or supporting products.
The ITRON Technical Committee has taken part in ESC West annually since 1995. This year's exhibit consisted of a joint booth with JASA, the Japan System House Association. Panels introducing the ITRON specifications and listing ITRON-specification products were displayed in the booth, and visitors could view the ITRON Web site or read HTML versions of the µITRON3.0 specification on personal computer displays. As in previous years, many of the exhibiting vendors displayed 20 x 20 cm "We Support the ITRON Specification OS" placards in their booths. We counted some 23 booths displaying these placards, which helped to raise awareness of the ITRON specifications.
The ITRON Supporters' Meeting was the first ITRON-related conference to be held in the United States. A summary of the event is given below.
Date: Wednesday, October 1, 12:00 - 3:00 p.m.

Place: Hyatt Sainte Claire, San Jose, CA

Program:

12:00 Lunch

12:15 Opening Talk

J. Farrell (TRON Association U.S. Liaison Office)

12:25 Current Status of the ITRON Specifications

K. Tamaru (ITRON Technical Committee Chair / Toshiba Corp.)

12:45 Current Activities of the ITRON Project

H. Takada (ITRON Technical Committee / Univ. of Tokyo)

13:25 Break

13:40 Short Presentations by the ITRON Supporters

"US Software's μITRON Solution"
N. Witchey (US Software Corp)
"Java and ITRON"
B. Sheppard (JavaSoft / Sun Microsystems)
"XRAY for ITRON"
R. O'Farrell (Microtec, Mentor Graphics Compary)
"Cygnus Solutions' support for ITRON"
D. Henkel-Wallace (Cygnus Solutions)
"Metrowerks CodeWarrior and ITRON"
J. Cheuck (Japan Metrowerks Corporation)
"ITRON Awareness in the ADViCE emulator"
J. Neithardt (Orion Instruments)
"CARDtools support for μITRON"
J. Rothman (CARDtools Systems)
"ITRON Support by Green Hills Software"
H. Fukutomi (Advanced Data Controls)

14:40 Closing Remarks
Following lunch in the conference room, Jim Farrell of the TRON Association U.S.A. Liaison Office opened the meeting at 12:15. Kiichiro Tamaru of Toshiba Corporation, who heads the ITRON Technical Committee, talked about current trends both in ITRON use and in the embedded systems market in Japan. Recent developments in the ITRON subproject were outlined by ITRON Technical Committee member Hiroaki Takada of the University of Tokyo. After a short break, the meeting resumed with a series of short presentations by eight U.S. companies supporting the ITRON project, who explained their involvement with ITRON. The meeting was attended by approximately 70 persons, including the speakers and ITRON Technical Committee representatives. As the first such conference to be sponsored in the United States, it can be considered a big success.
The 1998 Embedded Systems Conference will likewise be held in the San Jose Convention Center, from November 1 through 5 (Sun.-Thu.), and the ITRON Technical Committee again plans to enter a booth. In addition, the Spring edition of the Embedded Systems Conference (ESC Spring) will be held in Chicago from March 31 through April 2 (Tue.-Thu.), while a European Embedded Systems Conference (ESC Europe) is being scheduled for September in Great Britain. At the ESC Spring conference, Hiroaki Takada of the University of Tokyo will be giving one of the seminar classes, on the topic, "Designing Small-Scale Embedded Systems with µITRON Kernel."
Companies Displaying ITRON Placards in their Booths
CAE Plus, Inc.
CARDtools Systems
Corelis, Inc.
Cygnus Solutions
Densan Co., Ltd.
Fujitsu Microelectronics, Inc.
Gaio Technology Co., Ltd.
Green Hills Software, Inc.
Hitachi America, Ltd.
LSI Logic
Metrowerks Corp.
Microtec - A Mentor Graphics Company
Mitsubishi Electronics America, Inc.
National Semiconductor
NEC Electronics, Inc.
Panasonic Industrial Co.
Sanritz Automation Co., Ltd.
Sophia Systems and Technology
Spyglass, Inc.
TASKING, Inc.
Toshiba America Electronics Components, Inc.
US Software
Yokogawa Digital Computer Corp.
Report on Presentation at OSEK/VDX Workshop
At the 2nd International Workshop on Open Systems in Automotive Networks, an OSEK/VDX project workshop held in Karlsruhe, Germany on Tuesday, October 7, ITRON Technical Committee member Hiroaki Takada of the University of Tokyo gave a presentation on the ITRON project. Besides outlining the ITRON-specification OS, he talked about the use of this OS in automotive applications and expressed interest in cooperating with the OSEK/VDX project in this area.
OSEK/VDX is a European project that is setting standards for real-time OSs and communication protocols in automotive control use. The OSEK/VDX project chairman, Uwe Kiencke of Karlsruhe University, was an invited speaker at the ITRON Open Seminar held in Tokyo last July, where the topic of cooperating with ITRON was discussed. The October workshop drew larger interest than anticipated, with nearly 200 participants turning out, confirming once again the international attention being focussed on the OSEK/VDX project.
New Products
Products recently registered with the TRON Association are introduced here. In this issue we introduce the MR32R OS, which was left over from the previous Newsletter due to lack of space.
MR32R is a µITRON3.0-specification real-time OS for use with the Mitsubishi Electric Corporation M32R/D Series of 32-bit RISC microprocessors.
Features
Conforms to µITRON3.0 specification

The MR32R OS is designed according to the µITRON3.0 specification, supporting all the level R and level S functions and part of the level E functions.

Fast processing

Interrupt masking time for processing a wup_tsk system call is just 4 ms, and task-switching time is 7 ms, realizing fast real-time processing. (These measurements are with cache on, running at 16.65 MHz externally and 66.6 MHz internally.)

A compact OS

Linking the OS libraries automatically generates a compact OS with only the system calls actually used. The OS kernel size ranges from a minimum of approximately 3 KB to around 17 KB maximum.

Easy interrupt handler writing

Interrupt handlers are created by writing ordinary functions. These are registered in the OS simply by designating the number of interrupt sources and the interrupt handler entry points; the supplied configurator tool cfg32R automatically makes the necessary files.

C language development supported

The MR32R comes with a C language interface library for use with the MR32R cross-toolkit CC32R, enabling applications to be developed in C.

Comes with a configurator tool cfg32R

The cfg32R configurator supplied with the OS automatically generates the initialization files necessary for defining OS resources such as tasks and event flags, based on configuration files written in C-like notation.
For more information, contact:
Mitsubishi Electric Semiconductor Systems Corp.
Microcontroller Tools Division, First Tools Section
Eclarte Esaki Building, 1-18 Toyotsu-cho,
Suita, Osaka 564, Japan
Tel.: 06-338-5572
FAX: 06-338-4471
Note: The support source is changed as of October 1 from Mitsubishi Semiconductor Software Corp.
Other products
Here we look briefly at some ITRON-related development tools and middleware made available recently.
ITRON support by MultiSTAC ICE system

Sophia Systems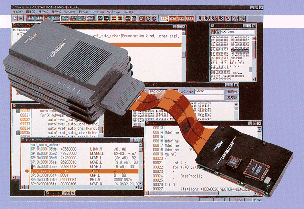 Sophia's MultiSTAC ICE (in-circuit emulator) system now supports ITRON and µITRON-specification OSs. This tool makes it possible to monitor and display OS behavior without any loss in real-time performance and with no limitations on target resources.
Standard support is currently available for Hitachi, NEC, IBM and Motorola processors. MultiSTAC comes with a source-level debugger, Watchpoint, which runs on Windows 95 and Windows NT systems.
For more information, contact:
Sophia Systems
Shinjuku NS Building, 2-4-1 Nishi-Shinjuku,
Shinjuku-ku, Tokyo 163-08, Japan
Tel.: 03-3348-7001
FAX: 03-3348-2446
Recent Works on ITRON
The October 1997 issue of the Journal of Information Processing Society of Japan (IPSJ) features a special series of articles on the current status of embedded systems development. It leads off with a general commentary in which Koichi Nakamoto (NEC), Hiroaki Takada (Univ. of Tokyo), and Kiichiro Tamaru (Toshiba) describe recent trends in the embedded systems field, including ITRON-related developments. Other articles in the series were also written by people active in the ITRON project. The series was edited by Hiroaki Takada, and includes his editorial overview.
---

This newsletter is a special edition for WWW of the one appeared in TRONWARE vol.48 and TRON PROJECT JOURNAL No.49.

Back to the list of ITRON Newsletter (English Version)


Back to ITRON Home Page (in English)